Welcome to the office of Dr Roscher. Here you will find an expert team that is dedicated to progressive, ethical and results-driven skin care, which we will make available to you with the latest science-based medical and aesthetic skin care findings.
Responsible skin care practices result in skin that is not only gorgeous, but healthy too.
Dr Roscher, with the assistance of an expert team, perform in-house aesthetic, medical dermatology and specialised dermatological surgery techniques. Dr Marc Roscher (MBChB/MMED – DERM) has always been, and remains immersed in the latest global scientific skin care findings.
In keeping with current trends, patients' skin care needs are viewed holistically. A selection of interventions and therapies are based on proper analysis and accurate diagnoses, combined with the best therapies available in the skin care world.
Dr Roscher has a special interest in the definitive care of SKIN CANCER.
The very latest pioneering therapies for the management and prevention of SKIN CANCER is provided in his office – in a world class "out of hospital " – Dermatological Surgery facility and laser clinic.
Furthermore, in-house spa treatments pamper not just your skin, but are designed to deliver the very latest scientific skin care – in a uniquely "specialist supervised" format .
The marriage of beauty and science is the objective in the SKIN CENTRE therapeutic facility.
Only the very best therapists and the very latest treatments are assigned – on an individualized basis. The objective remains a result driven therapeutic framework – with a safety first approach.
So, put your trust in the hands of the drroscher.com team and grow to love the skin you're in.
Dr Roscher has received numerous international conference awards and citations – most notably :
1) Lawrence Field -ASDS AWARD FOR INTERNATIONAL LEADERSIP IN DERMATOLOGY – Chicaco 2015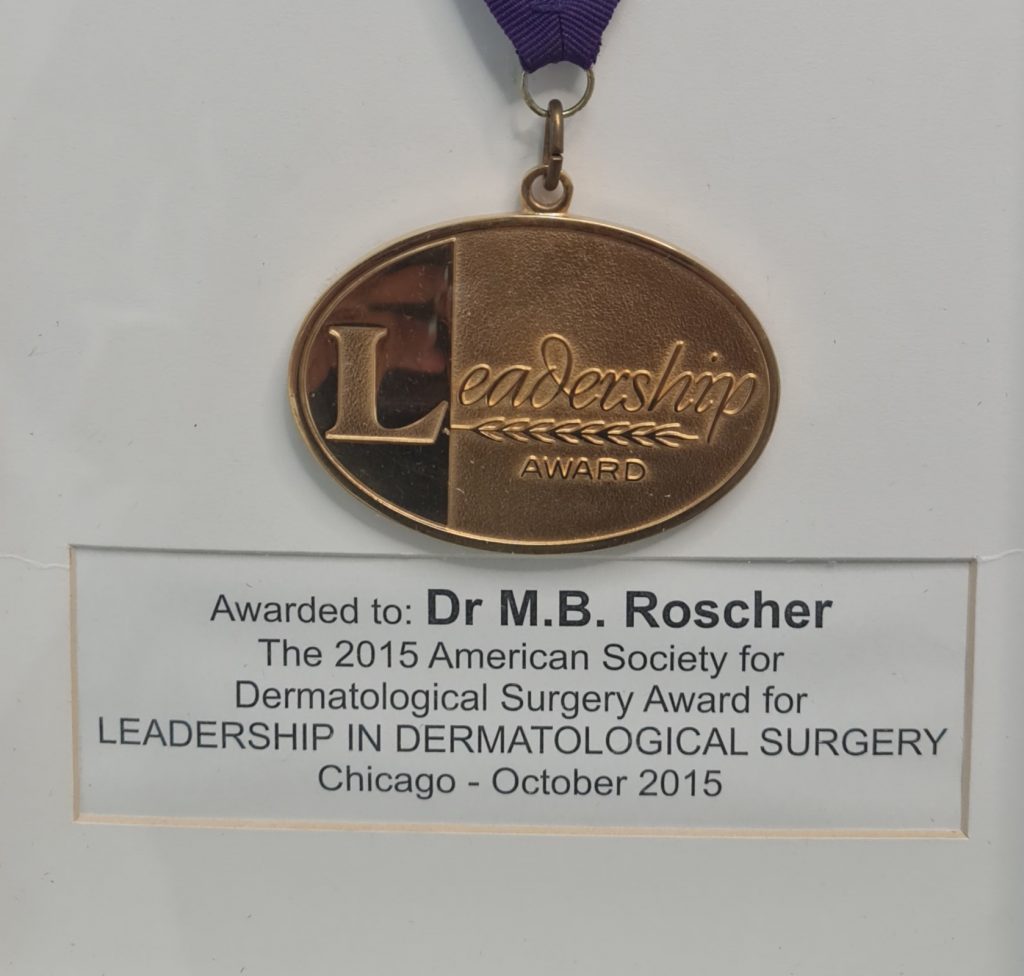 2) DASIL (Dermatological Aesthetic and Surgical International League) – International Dermatologist of the Year (DASIL SCAR FREE INITIATIVE)